The National Grocers Association (NGA) Show is the premier event for the grocery industry, providing a unique opportunity for retailers and wholesalers, industry executives, manufacturers, and service providers to come together and learn about the latest trends, innovations, and best practices in the industry. At the NGA Show 2023, Top-Shelf Fixtures will be among the more than 300 exhibitors on the expo floor, showcasing their innovative solutions to meet the needs of independent grocers.
As the only industry association exclusively devoted to the needs of independent grocers, the NGA Show is a must-attend event for those who need to stay up-to-date on industry trends and best practices. With over 40 educational workshops and sessions, attendees will gain valuable insights into emerging issues and best practices that they can apply immediately in their businesses. In addition, more than 100 speakers, including retailers and wholesalers, will share their experiences and best practices to help attendees increase their bottom line.
Top-Shelf Fixtures, LLC is a quality manufacturer of grocery store, c-store, retail, commercial, and industrial fixtures, based in Chino, CA.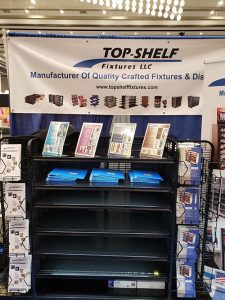 Our core competencies include fabrication of store fixtures made with various material compositions, including sheet metal, metal tubing, wire, glass & plexiglass, and other materials. We offer design and engineering services to provide exceptional store fixture solutions.
As a Minority Business Enterprise (MBE) certified company, with over 25 years of experience manufacturing a variety of store fixtures, we welcome the opportunity to design, fabricate, & supply fixtures that optimize merchandising goals.
All Top-Shelf fixture products are proudly "Made In The USA" with our company emphasis on providing customers exceptional service, competitive pricing, high-quality products, fast production turn arounds, and overall value.
Our participation this year at The NGA Show 2023 provides us the opportunity to meet with you and explore the development of a new business relationship.  Please come visit us at show booth #1144, so that we may introduce ourselves and help you with your store fixture. At the NGA Show 2023, Top-Shelf Fixtures will showcase their latest products and solutions designed specifically for independent grocers. Their custom displays can be tailored to meet the unique needs of any store, and their high-quality shelving and gondolas are designed to withstand the demands of the grocery industry. By attending the NGA Show, Top-Shelf Fixtures will have the opportunity to connect with industry leaders, showcase their products and services, and gain valuable insights into the latest trends and innovations in the grocery industry.
In conclusion, attending the NGA Show 2023 is a must for anyone in the grocery industry who wants to stay ahead of the curve and stay competitive in a rapidly changing market. As a leading provider of store fixtures and displays, Top-Shelf Fixtures will be among the exhibitors showcasing their innovative solutions at the event. Don't miss out on this unique opportunity to learn, engage, network, and innovate in the grocery industry.